It's often said that art is a way of life -- but it's much more than that if you want your art to pay the bills. Developing a professional art practice is no easy task. However, it is totally possible as long as you're willing to dedicate lots of time, energy, and yes, some money to get yourself started. Here's a list of essentials for those of you who are even just thinking about taking the leap to professionalizing your hobby. Of course, there's many more items on the to-do list to sustain your career, but these 7 points will help kickstart your professional practice.
---
1. Schedule time to "clock-in" to your new second job
Unfortunately, financial expectations of today's society doesn't allow most people to just quit their day job to pursue their dream. This is why it's essential to schedule a set amount of time per day (or per-week if it's easier at first) to dedicate to your practice.
For instance if you work a normal 9-5, maybe your art-time is 7-8PM. This gives you enough time to get home, heat up some leftovers, and hit the studio. Afterwards, you'd even have time to wind down with a book or a "Friends" rerun before you hit the hay.
If you've run out of ideas for how to use your art-time, or aren't feeling inspired to make actual artwork,
check out this list by Sylvia White
that goes over some logistical tasks for beginning artists.
Finally, it's easy to let this time commitment slide to the back burner as life gets hectic. That's what makes being a professional artist so difficult -- you don't have a boss looking over your shoulder, checking up on your productivity. Try to hold yourself accountable for this time and soon you'll find it easier to dedicate even more of your day to your art practice.
2. Big or small, find a space - and get organized
If you want to make the most of your dedicated art-time, it's important to avoid spending a chunk of it setting out and cleaning up your supplies. Many times, this remedy can be as simple as obtaining a desk that's strictly a surface for working on your drawings, and organizing your supplies in an accessible way. Try decorating your space with aesthetics that inspire you, and refrain from letting your art-area get cluttered with non-creative work. A desk covered with laundry and bills can inhibit your creative flow and just leave you feeling stressed about housework instead of motivated to create something beautiful.
If you're fortunate enough, it might be feasible to eventually rent a space outside of your home. A good place to start could be
TXRX Labs
. They offer electronics and prototyping lab space, workshops, and collective wisdom, in addition to their incredibly comprehensive equipment facilities for wood and metal workers, machinists, ceramicists and more. Obtaining a monthly membership is a great way for beginning (and experienced) artists to gain access to spaces and resources for a fraction of the cost it would be to purchase them yourself.
Eventually, you could outgrow your home studio and find a space away from home in studio communities such as the growing
Sawyer Yards
. But for now, just being mindful about committing a space to your creative practice puts you on the right track to take your work more seriously.
3. Construct an Artist Statement
An artist statement, a concise declaration of an artists' practice, ideas, intent, materials, and methods, is one of the most important aspects of your practice. When applying for grants, shows, residencies, or gallery representation, you will be asked to provide an artist statement to accompany work examples. Therefore, it is important to be sure that you are constantly updating your statement as your work changes and develops. If you've never written a statement before or could use some advice on how to improve yours, check out
this article from Agora Gallery
that explains some tips about the writing process
Many artists find it difficult to construct an artist statement, but it can also be used as a tool help develop your artwork through reflection and critical thinking. If you have a few projects that are very different from one another, its a good idea to write statements for each of them. It is also common to prepare multiple versions of the same statement to fit occasional length restrictions. To start, you should prepare a one-sentence statement (sometimes called an elevator pitch), a one-paragraph statement commonly included in publications for group shows (about 100 words), and a one-page statement to include in grant applications for a more in-depth look into your practice (about 250 words). Here is a
great article from Columbia College of Chicago
that distinguishes the significance of different versions. Most importantly, revisit your statement frequently to ensure its always in tip-top shape.
4. Create an Artist Website
The internet continues to be a growing space for sharing information and your artwork should be a part of that space. An artist website is an efficient way to represent your artwork in an organized, thoughtful, and self-controlled format that is accessible from nearly anywhere in the world. It is also becoming more common for grant applications offer the option to submit your website as an additional resource to be considered. Having an artist website might seem unessential for a beginning artist, but it can be a great way to organize your artwork and the simplest way to show your work to others while on the go. Also, creating a website is easier now more than ever -- so the real question is, why NOT?
Many artist websites include work samples with citation information, an artist statement and biography, a resume, and information about how to contact the artist. Here's a
thorough article from ArtBusiness.com
that outlines all the do's and don'ts for successful artist websites. Their biggest piece of advice? "Keep it fast, simple, easy, and organized." Use your website to curate your online portfolio of only the best examples of your artwork. With the goal of efficiently exemplifying your art practice to the common public, the importance lies in quality - not quantity.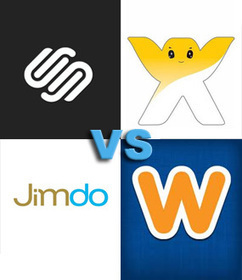 Finally, there are many simple services that offer website creation and hosting - starting at ZERO dollars! If you've never made a website before,
Weebly
is a great place to start. It uses a simple drag-and-drop interface that allows you to easily add content and organize the pages of your site. If you're pretty tech-savvy and a little nit-picky with design, you might find the usability of
Wix.com
to offer a little more freedom in exchange for simplicity. Whichever platform you choose, start with a free account as a way to experiment with different strategies to promote yourself. Once you've got your work out in to the digital world, adding an online shop or blog can be a great way to attract visitors to your site and hopefully new collectors of your artwork!
5. Create a Basic Business Strategy
If you're used to painting or sculpting in your free time as a leisurely hobby, developing a business strategy for your practice might seem like an uncomfortable transition. However, if you want your artwork to provide at least a supplementary source of income, its important to structure and predict the ways your work can earn you money. Do you want to sell your artwork directly to the consumer? Do you want to be represented by a gallery, or sell your work yourself at events such as art festivals and open studios? Do you want to produce installation or socially engaged art and receive your artist income through granted artist fees or stipends? Do you want to work as a commissioned photographer or portrait artist and be paid on an hourly basis?
Having an idea about the logistics of your business will allow you to start making goals to move yourself forward. It might seem strange to think about your artistic practice as a business, but if you have the intention of making some money from your work, then the slight shift to an entrepreneurial mindset is necessary. Here is an
article from Creatives and Business
that breaks down the basics of a business plan and some crucial questions to ask yourself when writing one.
6. Get out there!
Artists need fuel to create their work, and that fuel often comes in the form of inspiration from other art. Try to go to as many exhibitions, screenings, openings, and fundraisers in your local art community as you can. Taking the time to absorb and contemplate artwork that is similar and art that is widely contrasted from your work will allow you to think more critically about the concept, quality, and progression of your art. To stay informed about art events happening in Houston,
subscribe
to Fresh Arts' weekly
Art on Tap newsletter
for event suggestions sent right to your inbox or check out
ArtsHound.com
.
Not only is it beneficial to be able to see the interests of other artists, but going to events is also a great way to meet people in the community. Networking is a great way to gain collectors, meet collaborators, and learn about current opportunities and resources. Although it might seem intimidating at first, the more you talk about your work, the better you become at talking about it AND the more you start to understand how the community engages with your artistic interests. Pro tip: networking is a fantastic time to whip out your elevator speech that you've conveniently already prepared.
Finally, by being actively engaged with events around you, you'll start to get a gauge for how and even specifically where your artwork will best fit into your local arts community. Submitting your work to small exhibition spaces is a simple way to add to your resume and get your art seen by the public. Places like
East End Studio Gallery
and
Hardy & Nance Street Studios
regularly post open calls for artwork, so be sure to keep an eye out for shows to which your work might be applicable. (Pictured right: Lawndale Art Center's BIG Show)
7. Set Goals and Have fun!
Setting realistic goals to improve your new professional practice is a never-ending component of your development strategy. But that doesn't mean it has feel like drudge work. Your goals can be as simple and objective or as abstract and visionary as necessary. Karen Atkinson and GYST-Ink, the authors of "Getting Your Sh*t Together: The Ultimate Business Manual for Every Practicing Artist" suggest creating a set of one-month, one-year, five-years, 20-years, and even lifetime goals. This can be a great way to visualize how your new professional art practice, your personal, and your financial lives will be connected. This strategy will also help to break down seemingly impossible accomplishments.
As a hypothetical example, if your 20-year goal is to have a solo exhibition at The Contemporary Art Museum Houston, setting a 10 year goal of being represented by a competitive gallery or receiving HAA's Individual Artist Grant for a large public-art piece is a good way to place yourself on track. Furthermore, breaking down that ambitious goal further means a five year goal of getting into Lawndale's BIG Show and a one-year goal of documenting all of your artwork for your artist website makes the CAMH seem much more obtainable.
Best of all, these goals can and should change! Our lives, priorities, and interests are always shifting and our goals can adapt to those changes. The whole point of developing a professional art practice is to embrace the privilege of being able to do what we love for a living. Therefore, as artists we better be extra certain that we're having fun with our work -- no matter how tedious the essentials might seem.
---
To view more resources including the ones featured in this blog post, check out our Resource Library!