The Art of Taxes: Our newest edition including recent key changes for individual taxpayers
Wednesday, February 20, 2019
6:30pm
@ MATCH, 3400 Main Street
Presented by TALA and Fresh Arts
RSVP: https://matchouston.org/events/2019/art-taxes
With the passage of the Tax Cuts and Jobs Act in December 2017 and the redesign of Form 1040, it's important to be up to date with new information that impacts your tax liability. Join TALA as we cover new rules and general basics for completing your return.
Structured with artists in mind, this seminar is designed to walk you through your tax return, addressing common artist concerns and important IRS regulations pertaining to creative practices.
Topics covered include:
· What it means to be self-employed/independent contractor
· What the self-employment tax is and how it is paid
· Keeping records of income and expenses
· Which expenses are deductible
· What is needed to prepare your taxes
· Estimated tax payments
· Business v hobby rules
· Home office expenses
Meet the speaker, Kathy Ploch, CPA:
Kathy is a CPA and the Tax Compliance and Consulting Specialist at Harper & Pearson Company, P. C. She has been in public accounting preparing all types of taxes for 35 years and has worked with small nonprofit organizations for 20 years. She is a Past President of TALA and has been a volunteer with the organization since 1999. She is a member of the Houston CPA Society and served as Society's President in 2009-2010.
---


VENUE INFO
The MATCH site is 3400 Main Street, between Main to the East and Travis to the West, Holman to the South and Francis to the North. MATCH is two blocks South of Elgin and three blocks north of Alabama.
METRORAIL
The MetroRail makes a stop a half-block south of the MATCH at the Ensemble/HCC Station.
PARKING
e most of Midtown, you will have to pay to park, but prices are reasonable.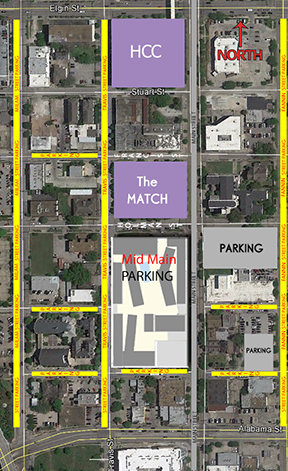 MID-MAIN
Close to the MATCH is the Mid-Main Garage directly to the south across Holman. This garage is accessible through Travis St. or Holman St. and is open 24 hours.
Using a GPS? We have found that inputting 3505 Travis St. into your GPS or phone will take you to the entrance of the parking garage on Travis St.
Parking can be paid by credit card or cash at the designated pay machines. Parking rates are as follows:
6:00 PM to 4:00 AM
First 15 minutes - Free
1 hour or less - $4.00
Each additional 1/2 hour - $1.00
Nightly Max Rate - $7.50
MORE INFO ON PARKING:
https://matchouston.org/location-parking